Posted on Monday, Feb 01, 2021 by Scott Savage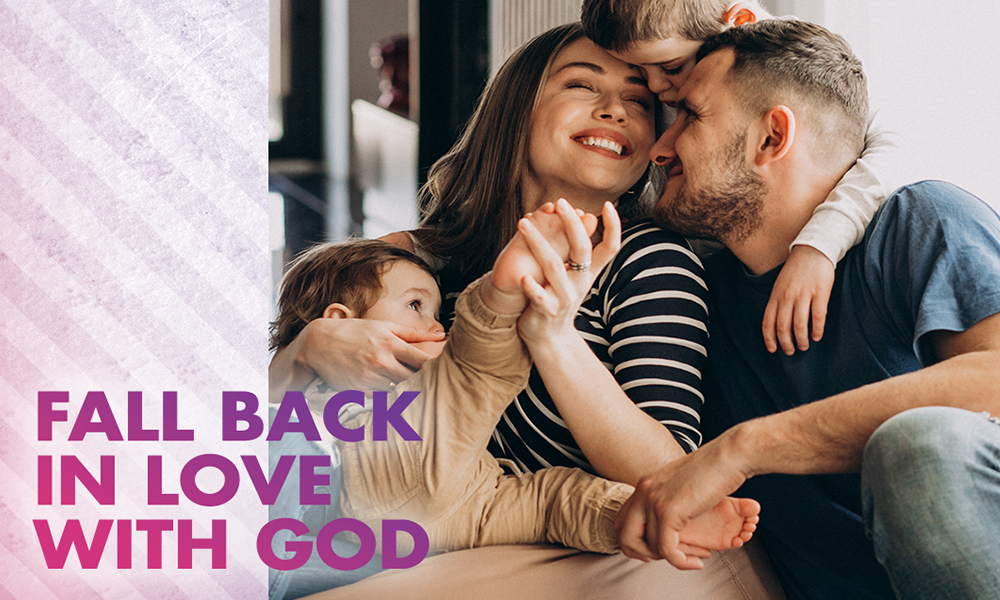 Harry + Lloyd in
Dumb & Dumber
.
Marlin + Dory in
Finding Nemo
.
Woody + Buzz in
Toy Story
.
Harry + Hermione in
Harry Potter
.
Frodo + Sam Wise in
The Lord of the Rings
.
These pairs became famous because of their friendships, but those friendships were not forged in easy circumstances.
Woody and Buzz have to work together to get back to Andy. Frodo and Sam go on an epic, dangerous adventure. Harry and Hermione fight for their lives against He-Who-Shall-Not-Be-Named. Harry and Lloyd? In the middle of the movie, one wonders if they're going to end up friends or mortal enemies!
In each of these stories, and in our own experience, we've observed an important truth. Showing love and commitment to someone is easy in prosperity, but it can be exhausting in adversity. Whether our circumstances are easy or exhausting though, it is essential that we have people in our lives who show up with love and commitment. Without them, we won't survive.
During this challenging season for our world, we've all been reminded of the importance of the relationships we have.
One of the hardest things about social distancing, though, is that it's led to emotional and relational isolation.
We feel alone in our struggles without other people to count on. The rise in mental illness has been directly connected to the loose sense many have of their relational connections. When we can't touch or feel the love and commitment of others, it's tough to trust it.
Part of the reason I believe Jesus descended to earth and took on human flesh was to offer us an undeniable picture of God's love and commitment to us. It's one thing for God to say, "I love you, my creation." It's quite another for God to take on human form and go through all of our temptations and trials, ultimately dying on the cross so we can be free and flourish. "The thief's purpose is to steal and kill and destroy. My purpose is to give them a rich and satisfying life."
Long before Jesus, Scripture records a powerful story of love and commitment in a time of death and economic crisis. The story is told in the book of Ruth. A woman named Naomi seems to be living "the good life." When a famine forces her and her husband and their two sons to move, they relocate to a land that has food. Her sons get married to great women. Life seems to be improving.
But then Naomi's husband dies. Then her sons die. She no longer has a reason to stay in a foreign land and she decides to return home, where the famine has subsided. Her daughters-in-law, Orpah, and Ruth attempt to go with her, but she pleads with them to stay in their homeland, painting a bleak picture of their future if they remain with Naomi.
Ruth 1:15-19 records these words. "And again, they wept together, and Orpah kissed her mother-in-law good-bye. But Ruth clung tightly to Naomi. Naomi said to her, 'your sister-in-law has gone back to her people and her gods. You should do the same.' But Ruth replied, 'Don't ask me to leave you and turn back. Wherever you go, I will go; wherever you live, I will live. Your people will be my people, and your God will be my God. Wherever you die, I will die, and there I will be buried. May the Lord punish me severely if I allow anything but death to separate us!' When Naomi saw that Ruth was determined to go with her, she said nothing more."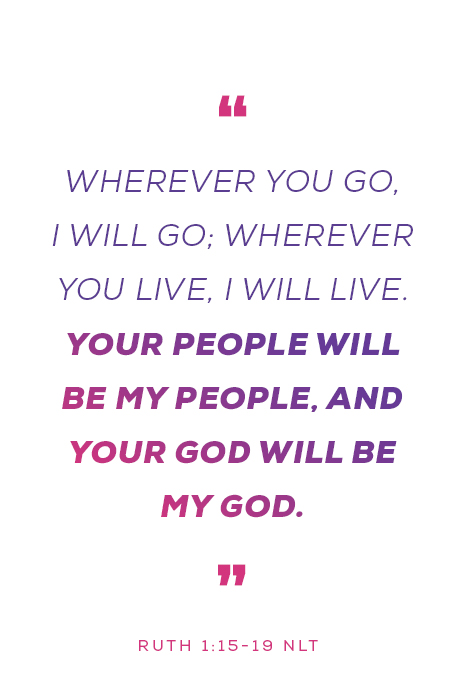 For centuries, Bible scholars have noted how the book of Ruth points towards Jesus. In this passage, we see a self-sacrificing love in the commitment Ruth shows Naomi. As Christ said in John 15, "There is no greater love than to lay down one's life for one's friends."
I believe there are at least two ways to read the story of Ruth's love and commitment to Naomi. One way involves being the kind of person who shows love and commitment like Ruth. Many of us tend to read the story as if we are Ruth.
Through this lens, showing loving commitment means…
Showing up when adversity strikes.
Staying put when someone pushes you away due to their pain.
Sticking it out through their current life storm.
However, another way of reading the story involves being the kind of person who receives that love and commitment like Naomi. It can be a lot more difficult to act like Ruth than it can to embrace the places where we are Naomi.
Receiving loving commitment means...
Letting someone stay when all you want to do is push them away.
Letting another person love you when you don't feel worthy.
Letting them in to see the deeper parts of you when you want to close yourself off.
Ruth's actions towards Naomi give a picture of Christ's actions towards us. Cory Asbury describes Jesus's tender, loving commitment to us in his song, "Sparrows."
RELATED STORY: Acoustic Performance of "Sparrows" by Cory Asbury
"Cause you take good care of me
You know what I need before I even ask a thing
And you hold me in your hands
With a kindness that never ends
I'm carried in your love, no matter what the future brings."
This is how Jesus loves us. We often experience that care through people in our lives like Ruth.
Today may be a day where you need to let the "Ruth" in your life, love you. It could also be a day where someone needs you to show up in their life, as Ruth did for Naomi and like Christ did for us. Whoever you are in the story, it's the love and commitment embodied amid adversity that builds a relationship that can be used by God to heal and strengthen us.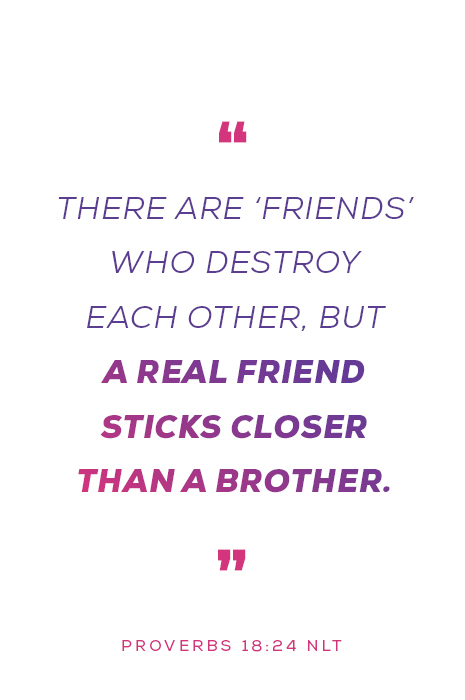 ---
Scott Savage is a pastor and a writer with the coolest last name ever. He leads Cornerstone Church in Prescott, Arizona. Scott is married to Dani and they are the parents of three "little savages." He is the creator of the Free to Forgive course and you can read more of his writing at scottsavagelive.com