Posted on Saturday, Jun 20, 2020 by Scott Savage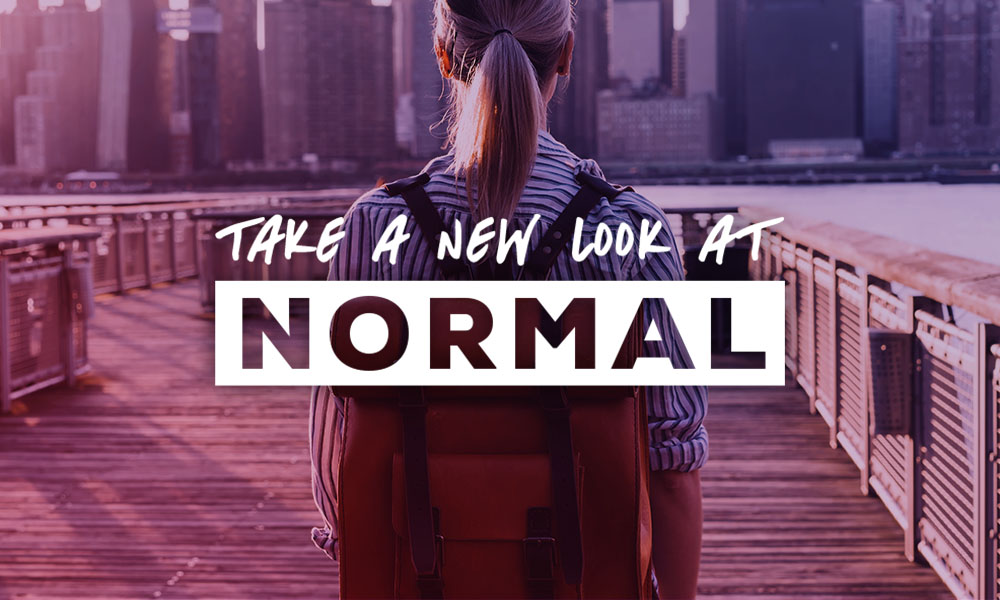 Over the last few weeks, there has been a lot of talk about returning to normal. Normal gatherings, normal openings, normal activities, and normal life.
However, in all of this talk of normal, I wonder if what we're really talking about is settling or even forgetting.
What if Normal Isn't Working?
Several years ago, I read a book by Craig Groeschel titled "Weird: Because Normal Isn't Working." I love the title, and it sums up my resistance today to the idea of returning to normal because a life that pursues that vision seems like settling.
Before COVID-19, our cultural normal included widespread anxiety, an unsustainable pace of life, suffocating financial debt, and rising suicide levels.
Why are we trying to get back to that kind of experience?
Learning from Noah's Example
I was talking with a friend recently about this rush to return to normal, and she pointed out a passage of Scripture that I had not even considered.
She described how Noah and his family were in the ark for 377 days. 377!
I always thought about the 40 days of rain, but I never did the math on the rest of Noah's journey. She did, concluding they were in a "quarantine" of sorts in the ark for 377 days.
But what struck me the most about what my friend shared was that Noah didn't rush out of the ark as soon as he saw dry ground.
She pointed me to Genesis 8:13-15, where God tells Noah it is time to leave the ark. Noah didn't decide it was time to leave the ark; God did. Noah waited two months after his patch of ground was dry until the entire earth was dry. Only when God told it was time to leave did Noah and his family step out of the ark.
Incredible, right? I'm in awe that Noah didn't rush out of the ark. Before the rain began to fall, Noah watched God close the door of the ark. Over a year later, he waited for God to open that same door.
My friend told me, "Scott, God was in charge of Noah's trial starting, and God was in charge of Noah's exit. Let God decide when it's time for your trial to be finished."
Wow.
This conversation with my friend helped me to recognize three temptations I'm facing today that I think you may be facing too.
Three Temptations We Face When We Are Facing Change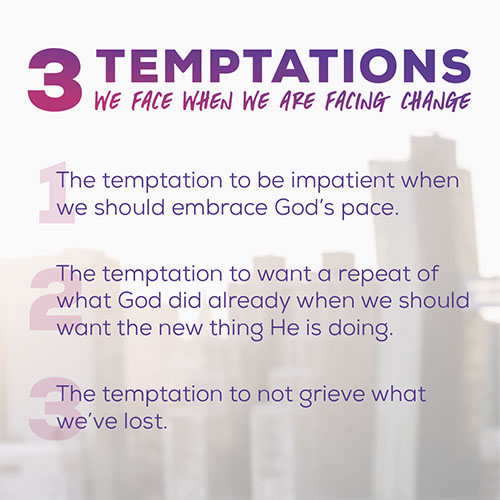 1. The temptation to be impatient when we should embrace God's pace.

Whenever I forget my phone or my wallet at home, I always end up saying some form of "I was in such a hurry that I forgot." Hurry is always the source of me not seeing clearly. Hurry is a constant temptation in our culture.

Yet, when I read the Bible, what I find consistently from beginning to end is that God is NEVER in a hurry. In fact, when Jesus comes, he regularly waits when others were impatient. Jesus waited to visit his friend Lazarus for several days when Lazarus was sick. He waited until the time was "fulfilled" to begin his public ministry and announce that the Kingdom of God was available.

Jesus invites us to a pace that replaces pushing with patience.

The temptation to want a repeat of what God did already when we should want the new thing He is doing.

Throughout Scripture, the temptation God's people face involves looking back rather than looking ahead.

Lot's wife wanted to look back at Sodom. The Israelites wanted to look back at Egypt. Some early Christians wanted to look back to the symbols of the Old Covenant rather than to the freedom of the New Covenant.

In Scripture, we never see God working the same way twice. Consider how many ways in the Gospels that Jesus healed people. He stuck his fingers in ears, made mud to cover eyes, and spoke healing over people who were miles away.

The temptation to not grieve what we've lost.

Our culture struggles with grief. We see this in the reactions of those around us when someone receives a terminal diagnosis or when we return from a funeral.

Yet grief and healing cannot be separated because what cannot be named cannot be healed. What has not been grieved in our past will not be healed in the future.

Running from grief is tempting because it feels like the easier, more pain-free path, but what feels like a short-term win quickly turns into a long-term loss. Just as repentance precedes reconciliation, grieving precedes healing.

If these are the temptations we face as we adjust to life after COVID, then asking the following three questions could help us accept those changes in healthier, God-honoring way.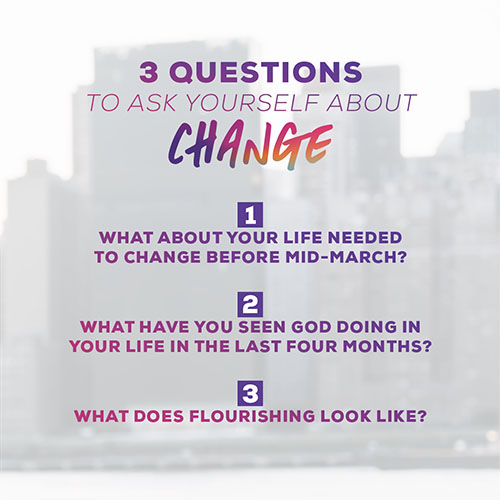 What about your life needed to change before mid-March?

Was your pace too busy?

Were you carrying emotional baggage?

Was your posture one of total control?

Was your peace based upon your circumstances?

Consider what needed to change and make those necessary changes.

What have you seen God doing in your life in the last four months?

If you've seen God at work in a certain area, don't let it stay in quarantine, even as you leave quarantine. Instead of focusing on getting back old stuff, how can you focus on the new stuff God is doing?

What does flourishing look like?

Read Psalm 1 and consider the picture of flourishing that David describes. Sure, parts of our old life that flourished before COVID-19, but there were parts that were languishing.

Make a list of what flourishing in your life with God would look like. Seek that, instead of reclaiming the withering branches of the life that went on pause.

As you accept a new normal, may it be one that meets the standard the Apostle Paul described in 1 Corinthians 2:9. "No eye has seen, no ear has heard and no mind has imagined what God has prepared for those who love him."
---

Scott Savage is a pastor and a writer who believes he has the best last name ever. He leads Cornerstone Church in Prescott, Arizona. Scott is married to Dani and they are the parents of three "little savages." He is the creator of the Free to Forgive course and you can read more of his writing at scottsavagelive.com.