Posted on Sunday, Apr 18, 2021 by Scott Savage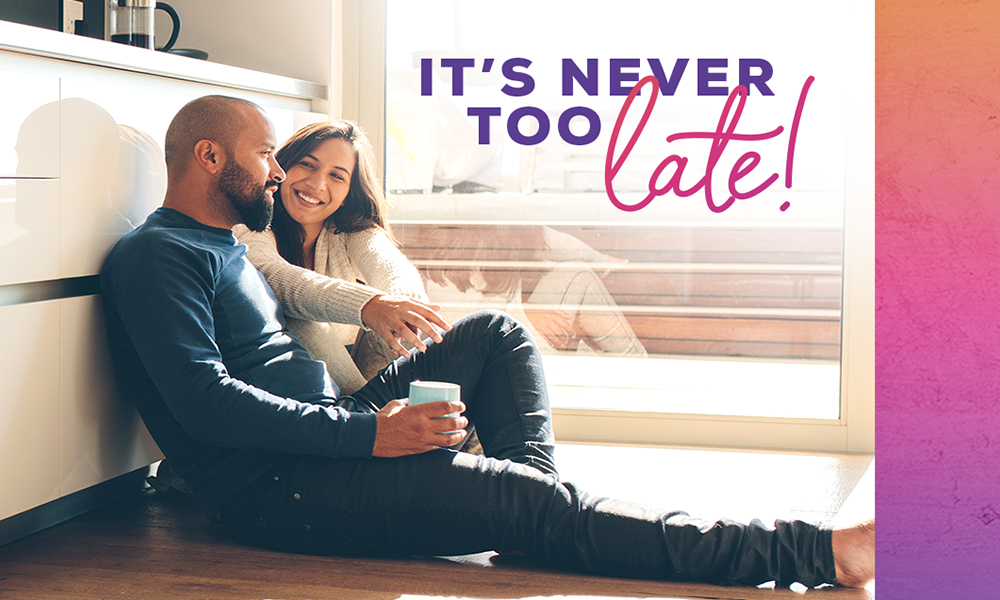 Has any relationship in your life not taken a hit because of the chaos and challenges of the last year?
A few months ago, my wife and I had some conflicts.
The conflict started because I decided something for her without taking the time to ask her. I told myself a story that she wouldn't want to do that particular thing, so I didn't ask.
When this specific opportunity arose, I remembered a similar opportunity in the past where she said no. That memory in the past became a story I told myself in the present. That story became a barrier in our relationship.
As my wife and I unpacked her frustration and my decision-making pattern, my eyes were opened, and I realized that I had told myself a lie. The opportunities weren't the same, and there were larger reasons why my wife had said no in the past but would've said yes in the present.
This lie became a barrier to intimacy in our relationship as a couple. While the conversation was uncomfortable for sure, I'm grateful to have replaced the story I told myself, which was untrue, with the truth straight from my wife's mouth.
I wonder if the same thing that happened with my wife also happens with God.
The lies we believe about God limit our intimacy with God. In the same way that the lie I believed about my wife kept me from moving towards my wife, the lies we believe about God often keep us from moving towards God.
Far too many of us fail to experience God's presence because of the untrue stories we tell ourselves.
5 Lies About Going to God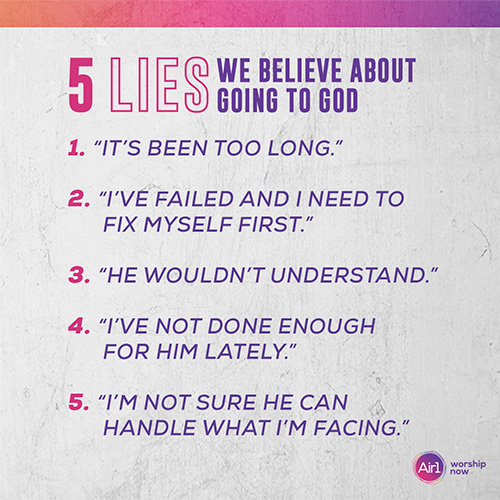 We often think "I can't go to God because…"
1. "It's been too long."
In the same way that we tell ourselves, "I can't call that person, because I haven't been a good friend and kept up well." We think that we can't go to God, because we haven't been seeking Him.
2. "I've failed, and I need to fix myself first."
We think we need to be presentable before we go to God, so we try to fix ourselves up before we go to Him.
3. "He wouldn't understand."
We think that our modern-day challenges and problems are something God couldn't possibly comprehend.
4. "I've not done enough for Him lately."
We think our lack of devotion, or our selfishness, is a barrier to coming to God. As a result, we make a spiritual to-do list and we tell ourselves once those items are crossed off, then we'll reconsider going to God.
5. "I'm not sure He can handle what I'm facing."
Perhaps in a previous experience where we went to God, and it didn't turn out the way we wanted or expected, has us second-guessing the capacity and power of God.
At one point or another, I've told myself each of those lies. In moments of crisis in the last year, I've tried to power through difficult days and crises on my own.
However, I hit a point last year where I felt so very weak. I was overwhelmed and inadequate for what I was carrying and facing. During that difficult time, I ended up reading Hebrews 4. In Hebrews 4:14-16, I read these powerful and perfectly timed words:
"So then, since we have a great High Priest who has entered heaven, Jesus the Son of God, let us hold firmly to what we believe. This High Priest of ours understands our weaknesses, for he faced all of the same testing's we do, yet he did not sin. So let us come boldly to the throne of our gracious God. There we will receive his mercy, and we will find grace to help us when we need it most."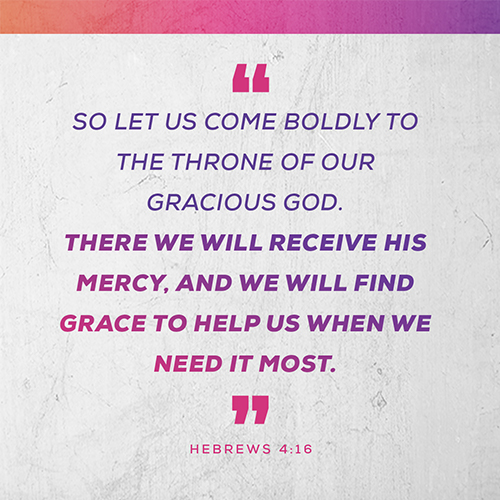 These three verses spoke truth straight into all of those lies and brought relief to my weary body, mind, and soul.
While we may think it's been a long time since we called out to God in prayer, it's never been too long for us to call out to Him!
Our enemy, Satan, wants us to think that we've failed so badly that we need to fix and save ourselves before we come to Jesus. However, we've never failed so much that His mercy and grace cannot reach us.
Think He wouldn't understand? He's been tempted in every way we have - He's seen and heard it all. He already knows!
Concerned about what you've done, or not done, for God lately? Well, take a deep breath and understand this. God doesn't love us based upon our accomplishments but His son's accomplishment on our behalf on the cross.
His grace helps us when we need it most and His mercy covers all our sins.
As Jonathan Traylor says in his song, "Keep on Coming Through:"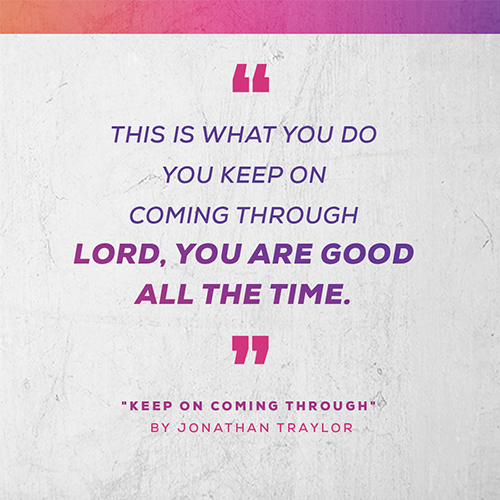 RELATED CONTENT: "Keep on Coming Through" by Jonathan Traylor
We can always access God's presence. Always! His presence, power, grace, and mercy are always available to us, especially when we need it the most.
---
Scott Savage is a pastor and a writer with the coolest last name ever. He leads Cornerstone Church in Prescott, Arizona. Scott is married to Dani and they are the parents of three "little savages." He helps hurting people forgive others through his Free to Forgive course and you can read more of his writing at scottsavagelive.com