Posted on Monday, May 11, 2020 by Hope Darst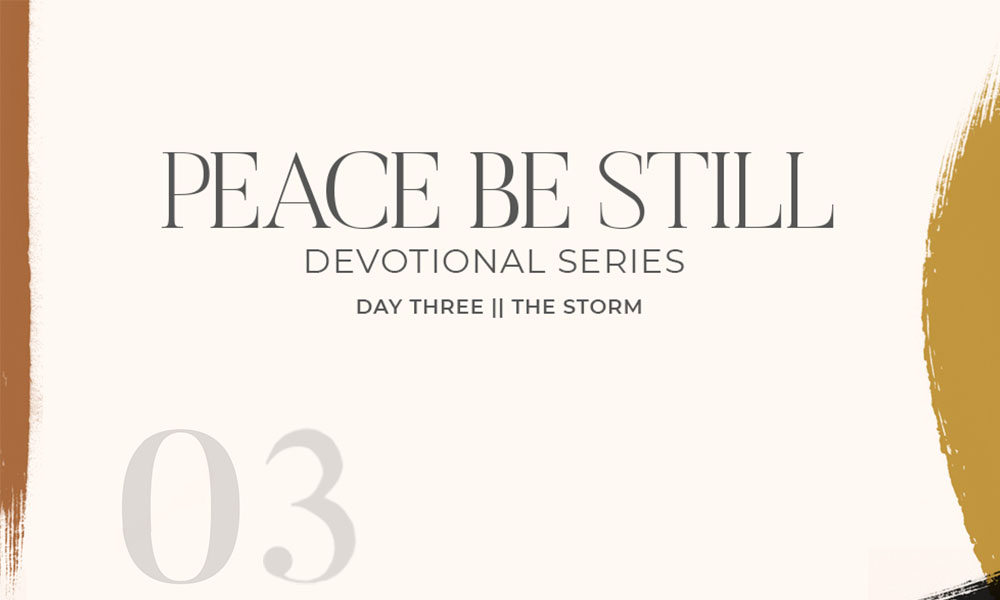 DAY THREE || THE STORM
Jesus was in the stern, sleeping on a cushion. The disciples woke him and said to him, "Teacher, don't you care if we drown?" - Mark 4:38 (NIV)
My husband and I are small business owners in our home city of Nashville, TN. For our entire marriage, we have seen many waves in our finances due to his business being a quote based industry, much like builders and contractors. We have had years of plenty and years of want. At the end of 2016, we were finishing up a major house purchase and remodel. We were anticipating a large end of the year bonus to help cover the closing costs and close out our construction loan. On the eve of finalizing everything with the bank, we got the news that some business deals fell through and there would be no bonus. As a result, we also decided as business owners to take a 20% pay cut to ensure our employee's salaries weren't affected. I wish I could tell you I was steady in my trust that God would work it out, but I wasn't. My heart filled with fear and panic. I tail-spun into 100 degrees of fear. My husband did not. He remained calm and hopeful that God would take care of us. Over the next 10 months, that's exactly what happened. God took care of us. The lack of finances caused us to get all of our budgeting in order and spend less. I watched God bring in work for me that I hadn't had in five years. God made good on His promises. During that time, I begin to trust Him in a way like never before. Fast forward another year, at the top of 2018, and our company had another hard year and all of the owners decided to take a full pay cut for six months. That's right, no paycheck for six months. Did I panic? No.
I was full of peace that God would provide. The financial storm we weathered the year before, had revealed where my trust in God as our provider was weak. My faith needed to be strengthened. I spent a year, focused on God's word. I meditated on who He was and how He takes care of His kids. And when that second storm hit the following year, my heart was prepared. I already knew that God would provide and He did. It wasn't always easy and there were some really hard months. And even though we didn't have a paycheck, we had peace during that entire season and it was worth way more.
When the storm begins to brew on that boat, the disciples immediately panicked. The storm was real. The fear was real. The danger was real. They let us know what they believed about the storm and Jesus. They thought the storm would destroy them and Jesus didn't care about their lives. I get it. Way too often when I'm standing in the middle of a life-storm, it looks like all is lost. I fight feeling alone and abandoned. Fear and doubt seem to have a megaphone in my ears. Storms can steal our attention - making it easy to focus on the storm and its damage, instead of focusing on God's word and His promises. Storms reveal our belief system - showing us what we really believe about God when life becomes filled with hardship, loss, and disappointment.
Jesus knew the disciples were of "little faith" before they got in the boat. Maybe it's why He invited them on the journey. Knowing there would be a storm and knowing that it would reveal to the disciples that their faith and trust in Him wasn't as firm and steadfast as they thought. Not to shame them, but to reveal where their faith could grow and strengthen. He knew that they would freak out the minute the storm began. He knew they would panic and doubt whether or not He would take care of them. He also knew that they needed to see His power and authority firsthand in the middle of the storm in order to know that they could fully trust Him. So that when they found themselves in future storms, they would remember who He is, their Refuge and Shelter.
Isaiah 25:4 (NASB)
For You have been a defense for the helpless, A defense for the needy in his distress, A refuge from the storm, a shade from the heat.
Storms reveal our anchors and our focus. Whether our hearts and minds are built securely on God's word and His nature, or if they are faulty with holes that can cause us to drown in our feelings and fears when life rages against us. When faced with life-storms, does the storm get all of your attention? Do you panic and doubt God's faithfulness? Or do you have God's promises so deeply rooted in your heart and mind that your focus is on who God is and what He has said?
Maybe you're in your first storm and this is where you get to discover the condition of your faith and trust in God. Maybe this is your 5th or 10th storm, and you need a reminder that the storm has stolen more of your attention than it should. Either way, let the storm be a place where fear and doubt is silenced, trust is established and faith rises up!
Prayer
Dear God, forgive me for thinking the storm is bigger than You. For believing it will destroy me and that You don't care. I know that is not Your heart towards me. Forgive me for doubting who You are and not having the faith to believe that You are my refuge and shelter in any storm. Thank You for being a God that cares about me and surrounds me on every side with protection. Thank You for being greater than the storm I am facing. I chose today to put my faith and trust in You. I chose to meditate on Your word, anchoring my heart and mind in the truth of who You are, and who you've always been. Amen.
Daily Scripture
Psalm 107:28-31 (NIV)
Then they cried out to the Lord in their trouble, and He brought them out of their distress. 29 He stilled the storm to a whisper; the waves of the sea were hushed. 30 They were glad when it grew calm, and He guided them to their desired haven. 31 Let them give thanks to the Lord for His unfailing love and His wonderful deeds for mankind.